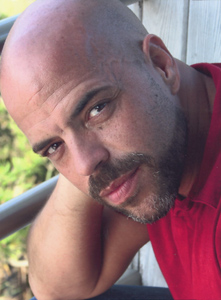 Al D. Rodriguez was diagnosed with advanced liver cancer on June 13, 2008. Only six short weeks later, on July 30, at the age of 45, Al lost his fight against this dreadful disease.
Raised in a Cuban household in Washington Heights, New York, and a proud New Yorker, Al was known for his signature wit, irresistible charm, and undying love for musical theater. A veteran of stage and screen, Al appeared in numerous productions over the past two decades.
Off-Broadway, Al was best known for his critically acclaimed work in the original cast of the long-running musical Born to Rumba!. Set in a pre-Castro Havana nightclub, the show started its long run at the Duo Theatre in 1991. Al created the role of drag showgirl Marijuana and appeared in more than 500 performances. He can also be heard on the show's original cast recording and returned to play Marijuana again at the Duo in the musical's sequel, Beyond Born to Rumba!
Other theater credits included the role of detective Munoz in the national tour of City of Angels, The King at the Public Theater, English Only Restaurant at Puerto Rican Traveling Theatre, Tooth and Claw at the Arden Theatre, and Night of the Iguana at the Olney Theatre and the New York workshop of Rubirosa, a musical based on the famous Domincan playboy Porfirio Rubirosa.
On the big screen, Al was featured as Cuqui opposite Benjamin Bratt in Piñero and seen in the movie musical The Producers. Other film credits included The Mule/Jorge, Lena's Dreams, Party Monster-Shockumentary (Cinemax)/Angel Melendez, The Love Machine/Javier, Isabella Rico/Carlos. TV credits included the HBO series "OZ," One Life to Live, the Hispanic Heritage Awards – Barrio Babies and most recently, "Law & Order: Criminal Intent."
Beyond his performing career, Rodriguez was a web designer and video editor. He joined the Broadway.com editorial team in 2000 as its first video editor, and was a driving force in the launch of the site's video section. As a web designer, Al created and ran the official websites for two of his well-known friends, Grey's Anatomy star Sara Ramirez and Carson Kressley of TV's How to Look Good Naked.
Al left behind his devoted and loving parents, Margarita and Alfonso Rodriguez; sister, Margarita Duffy, her husband John Duffy and nephew James Duffy; as well as friends and fans too numerous to mention.
The suddenness of Al's brief illness and the shock of his premature death left his friends reeling and in grief. He had a way of making each person feel special and valued and his joyful personality filled every room he entered. Al leaves those whose lives he touched better for having known him and he will continue to live in our hearts.