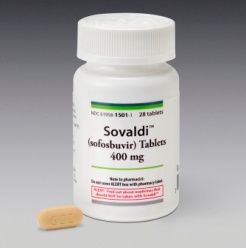 Over 150 million people are affected with hepatitis C worldwide, with more succumbing to this disease than HIV in a given year. Thus a wave of enthusiasm ignited when a promising new drug was announced last year. However, at a costly and contested price per pill, what does this treatment really mean to hepatitis C patients who are uninsured or underinsured?
In the last few years, hepatitis C patients have been treated with an injectable combination of interferon and ribavirin given in a course of up to 48 weeks. This treatment, however, is often accompanied by challenging side effects and is only 50 percent effective.
In December 2013, the FDA approved a new hepatitis C drug, Sovaldi, which promised minimal side effects and a cure rate of up to 96 percent when combined with ribavirin, or peginterferon alfa and ribavirin. This new treatment arrives in the form of a pill to be taken on a 12-week course. The catch? Each pill is priced at $1,000; in translation, the total treatment course per patient would cost around $84,000.
By comparison — according to the U.S. Department of Veterans Affairs website — more traditional 48-week treatment costs around $15,000 to $20,000 per patient. Therefore in translation, at its current pricing, Sovaldi would pose greater than a three hundred percent increase for treatment costs, per person.
Health insurance programs like Medicaid have expressed issues with being hit hard by the drug's hefty pricing, although the cure rate is more than impressive. In the U.S. alone, around 3.2 million people have hepatitis C; therefore treatment costs using Sovaldi would prove to be exponential. Various states such as Illinois have raised concerns about their treatment programs for their prison population with hepatitis C. And as states are obliged to provide treatment for affected inmates, the burden of the cost is anticipated to land on tax payers.
The debate over the high drug cost continues as health care providers consider other disaffected populations who are greatly affected by hepatitis C but do not have access to treatment, such as: the uninsured, various homeless populations, and patients from developing countries.
To address this cost issue, groups like Fair Pricing Coalition (FPC) have rallied against this high drug pricing; while helping to pave the way for alternate assistance such as: the Support Path Patient Assistance Program and Sovaldi Co-pay Coupon Program; both made accessible for eligible patients with limited or no insurance.
Thus, moving on from the price debate, it is important that the public is informed of available assistance programs and financing options — especially, in the case of those who urgently need the treatment.
Know more about your hepatitis C treatment options here or call 1-855-7MyPath (1-855-769-7284)
Check out other US-based hepatitis C patient access programs here
Learn about other hepatitis B or C Patient Assistance and Co-pay programs, click here