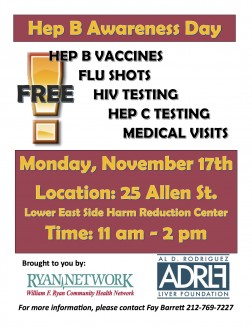 The Al D. Rodriguez Liver Foundation is re-teaming with the William F. Ryan Center to offer FREE Hepatitis testing and vaccinations in the Lower East Side with the Ryan Center's fully equipped mobile outreach van. Specifically, on offer will be Hep B vaccines, Hep C Testing, and a host of other medical services, including: the Flu shot, HIV testing, and more. ADRLF and the Ryan Center are proud to be partnering with the Lower East Side Harm Reduction Center, a "culturally diverse, community based, non-profit organization whose mission is to reduce the spread of HIV/AIDS, HCV and other drug related harm" brought on through needle use within the community. Another partner, working alongside ADRLF and the Ryan Center will be the Lower East Side Literacy Zone, an organization, funded by the New York State Education Department — which works with the Borough of Manhattan Community College — that is committed to "provide quality adult literacy and responsive social and educational services to low-income families living on the Lower East Side and in Chinatown." An educational presentation about Hepatitis will be made, and snacks will be available.
Through education and medical servicing offerings through our partners, Al D. Rodriguez Liver Foundation's work shines a light on at-risk communities where lifestyle, ethnicity, sexual orientation, age, tattoo usage, and economics, among other factors, impact viral hepatitis transmission rates, awareness and self-care.
Screenings will be held this Monday, November 17th, 11am to 2pm, from the medical outreach van, which will be stationed at 25 Allen Street in downtown Manhattan. Co-Founding ADRLF Board Member and Emmy-winning television star, Carson Kressley, alongside his fellow Founding Board Members will be in attendance.