THE AL D. RODRIGUEZ LIVER FOUNDATION AND THE WILLIAM F. RYAN COMMUNITY HEALTH NETWORK RAISE OVER $10,000 AT KARAOKE NIGHTS!
NEW YORK, NY: The Al D. Rodriguez Liver Foundation (ADRLF) hosted another successful event on April 8, 2013, "Karaoke Nights." Produced in association with the William F. Ryan Community Health Center, the event raised over $10,000 – money that will help support ADRLF's initiatives in the future.
Hosted by television personality and ADRLF board member Carson Kressley the event was fabulous and fun.  Among those in attendance were drag performer Sweetie (channeling Vicki Carr for her number), The Countess LuAnn de Lesseps, NY 1 Onstage and LA Times reporter Patrick Pacheco and Broadway veterans Carmen Ruby Floyd,  J. Bernard Calloway and Harriett D. Foy (ADRLF board member).  Also present was respected artist Alvaro, who created and donated the evening's artwork.  The artwork raised $300 during a silent auction held at the event.
"SCREEN, VACCINATE…DON'T HESITATE!"
See you next year!!
TONY AWARD WINNING ACTRESS AND GREY'S ANATOMY STAR SARA RAMIREZ & EMMY AWARD WINNING TV PERSONALITY CARSON KRESSLEY HOSTED A NIGHT OF STARS AT BROADWAY TAKES THE RUNWAY – AN EVENING OF FASHION AND SONG TO BENEFIT THE AL D. RODRIGUEZ LIVER FOUNDATION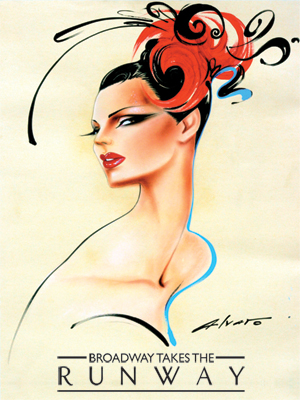 Sara Ramirez, Audra McDonald, Montego Glover, Robin de Jesus, Michael Park, Christopher Jackson, Billy Porter, and Natalie Weiss All Performed
New York, NY (Oct 5, 2010) – Broadway's brightest stars came out last night for Broadway Takes The Runway, an intimate evening of fashion and song  starring Tony Award winning actress and Grey's Anatomy star Sara Ramirez and hosted by Emmy award winning television personality Carson Kressley, at Touch in New York City.  Proceeds from the night benefited the Al D. Rodriguez Liver Foundation (ADRLF).
The room was buzzing with Broadway's brightest, who sang songs from the stage while flaunting designer fashions, styled and arranged by Mr. Kressley.  Ms. Ramirez (Spamalot) wore dresses by Angel Sanchez and Alberto Makali and jewels by Judith Ripka, as she wowed the crowd with performances of "Buenos Aires" and "How Could I Ever Know." Special guest star Audra McDonald wore David Meister and jewels by Judith Ripka, as she delivered a stirring rendition of "Some Days." Tony Award nominee Montego Glover (Memphis) wore Roberto Cavalli and sang "Gotta Have Me Go with You" and "Colored Girls." Tony Award nominee Robin de Jesus (In The Heights, La Cage aux Folles) wore Devon Scott, as he read an Al D. Rodriguez diary entry and entertained the crowd with emotional performances of "Corner Of The Sky" and "It Won't Be Long Now." Emmy Award-winner Michael Park (As the World Turns, Little Me) wore Joseph Abboud, performing "Spiderman" and "You're Different." Christopher Jackson (In The Heights) wore Elie Tahari and sang "Wake Up" and "Invisible." Billy Porter (Angels in America) wore Hugo Boss, opened the show with "And the World Goes Round" and returned to sing "No One Is Alone." Natalie Weiss (Everyday Rapture) wore Marchesa and sang "Spark Of Creation" and "Someone To Watch Over Me." Schele Williams directed the show; Mary Mitchell Campbell was musical director.  The event was produced by The Al D. Rodriguez Liver Foundation in association with 4good Productions.
photos:jamesalexanderNY
In addition to the fabulous performers, other VIPs and celebrities in attendance included Patrick Heusinger (Gossip Girl, Broadway's Next Fall), Nora Zehetner (Mad Men, Grey's Anatomy), Bill Dawes (House MC Laugh Factory), Lenny Platt (One Life To Live), David Harbour (Revolutionary Road, The Green Hornet); and famed artist Alvaro (who contributed the artwork for the evening's event).
"This special evening and gathering of friends was created in the memory of our dear friend, Al – who loved Broadway AND a great pair of heels!  The incredible talent was up close and personal in a small venue; it was truly a night of celebration and remembrance," said Kressley.
"The cast of performers was incredible and tonight was a very personal evening for us. We shared our stories and memories of Al while singing memorable Broadway songs that he loved and that we love as well!  We miss our friend terribly," commented Ramirez.
Kressley and Ramirez are founding Board Members of the organization and were inspired to create the Al D. Rodriguez Liver Foundation to honor their dear friend, Al, who died in 2008 of liver cancer.  ADRLF is a non-profit organization committed to providing resources, education and information related to screening, prevention and treatment for the hepatitis virus and liver cancer.  Among its many other projects, ADRLF has partnered with the Actor's Fund / Al Hirschfeld Clinic to provide free screenings for the uninsured for hepatitis and liver cancer.  100% of the evening's profits went to the Foundation.
_________________________________________________________________
Al D. Rodriguez Liver Foundation raises $12,000 in First Annual Benefit
Fire Island Pines, New York – May 31, 2009 – Nearly 160 members of the Fire Island Community along with supporters from as far away as Seattle and Chicago gatheredin Whyte Hall at the Pines Community Center for the very first Al D. Rodriguez Liver Foundation Benefit Gala, PINES '69, on Saturday evening, May 30th, 2009.
The sold out crowd enjoyed an open wine bar provided by Chatham Imports followed by a special screening of the 2009 Tribeca Film Festival entry, MAKING THE BOYS(directed by the Pines community's own Crayton Robey of WHEN OCEAN MEETS SKY fame, co-produced by 4th Row Films). Before the screening, Dr. Carlos Ortiz,chairman of the Foundation's board, spoke to the audience about the story of his very close friend/actor/performer/artist Al Rodriguez, and his struggle and ultimate loss in the fight against liver cancer. Dr Ortiz also introduced the audience to the important work the Foundation is doing to honor Mr. Rodriguez's legacy.
The benefit show was capped off with a moving performance of the Judy Garland standard "The Man That Got Away" by the Tony-winning GREY'S ANATOMY star, Sara Ramirez. The evening, which was a celebration of the 40th anniversary of the Gay Rights Movement, was emceed by Emmy winner, Carson Kressley.
A well-received and very active silent auction took place during the cocktail hour and fortified fundraising efforts. A one of a kind original oil painting of a 1960s era pop art Barbie by the acclaimed artist Alvaro topped the auction bringing in a final bid of over $2,000.
Following the show, VIP ticket holders were treated to an after-party at the bay-front home of Dr. Ed Schulhafer and Mr. Robey. Guests were transported back to the era of THE BOYS IN THE BAND with a dinner of salad and delicious "Connie Casserole" lasagna provided by Island Mermaid Restaurant in a nod to the fare served in the famous movie. Dr. Schulhafer welcomed guests, introduced the board of the Al D. Rodriguez Liver Foundation and highlighted their important work in making the evening a reality.
After dinner and cocktails, guests gathered in the home's soaring living room for a musical salon hosted by Mr. Robey. Guests were treated to solo performances by Mr. Robey, Harriett D. Foy, who channeled Dinah Washington, Darcy Becker, and Ms. Ramirez. Their soul-stirring performances brought the house down and had the audience on their feet many times throughout the evening.
The event raised nearly $12,000 for the Al D. Rodriguez Liver Foundation whose mission is to educate people about the relationship between chronic infection of the Hepatitis Virus and its association with Hepatocellular Carcinoma (HCC) – which is the most common cause of liver cancer.