Promoting liver health awareness is a demanding challenge, and when it's effective, a rewarding feat—best achieved in collaboration with like-minded allies. Much of the Al D. Rodriguez Liver Foundation's (ADRLF) hard-earned success has been thanks to our fruitful partnerships with fellow health advocates that are staunchly committed to their respective missions. Therefore, when we can offer our support in the form of grants to dynamic organizations, it becomes a win-win for our collective fight against hepatitis.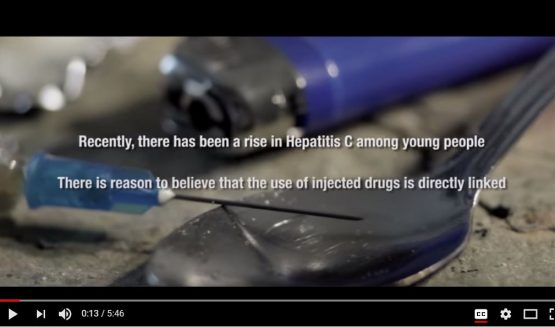 In line with this commitment—and in observation of Hepatitis Awareness Month—earlier this spring, the Al D. Rodriguez Liver Foundation proudly awarded grants, in the amount of $1,000 each, to two very special New York City-based organizations, namely: Hep Free NYC and the Tackling Youth Substance Abuse (TYSA) coalition. The grants were given to support their respective efforts around hepatitis awareness.
ADRLF'S Founding Board Member and Treasurer, Dr. Carlos Ortiz asserts, "Through micro-grants, ADRLF is committed to helping grassroots organizations, modest-sized agencies, and programs that are in need of grant money for their specific projects which are related to hepatitis awareness, education and treatment."
With that in mind, we are pleased to share the exciting work that HepFree NYC and TYSA are tackling, as they strive to make an impact through their outreach.
Hep Free NYC:
Collaboration is key to Hep Free NYC's work, in capacity-building for hepatitis awareness and treatment in New York City. The organization is composed of two divisions, the Hep B Coalition and NYC Hep C Task Force; and together, they unite diverse community-based organizations and health service providers in various activities that both promote liver health, and encourage public involvement in budget planning and legislation. Notably, the organization has been spearheading the annual observance of the National Hepatitis Awareness Month in NYC in partnership with other advocacy groups including ADRLF.
"Overall, our goal is to use the ADRLF grant to raise awareness about hepatitis and help prevent, manage, and treat hepatitis B and C in NYC," noted Daniel Calder, Outreach and Community Education Coordinator for Hep Free NYC. One such instance—on May 10th, the organization gathered local council members, advocates, and hepatitis survivors on the steps of Manhattan's City Hall to encourage hepatitis testing and improve access to treatment.
"Hep Free NYC is beyond grateful for ADRLF's support," Calder offered, while sharing more specifics, "We will use the funds from their grant to support Hepatitis Awareness Day activities, improve our hep C video, and organize screening events of the video."
The Tackling Youth Substance Abuse (TYSA) coalition:
Disease prevention is central to the mission of TYSA, a dynamic coalition of private and nonprofit groups working together to reduce youth drug and alcohol misuse in Staten Island. Recognizing the link between the prescription medication addiction and how it often leads to injection drug use, and hepatitis infection, TYSA is taking on creative means to get important messages across to younger generations.
Like HIV/AIDS, substance abuse also shares similar risk factors, such as hepatitis infection. "Issues like liver disease and substance abuse are very much tied to social justice," explained Jazmin Rivera, Project Manager for TYSA. "So we want young adults to lead healthy lives and make healthy choices."
TYSA has joined forces with diverse stakeholders including parents, teachers, local leaders, mental health professionals, and the NYPD. They organize community education sessions like professional development workshops for teachers to instruct them on how to recognize signs of substance use in their students, as well as how to build skills to properly intervene.
"We also go to schools to show them the video we developed, and we start to have a conversation … and most youth don't even realize that they can contract hepatitis C," shared Rivera. With ADRLF's grant, TYSA plans to leverage their video—"Hep C is on the Rise Among Staten Island Youth–Learn Why"—a project with Hep Free NYC Task Force that talks about the growing prevalence of hepatitis in New York City, and the intersection of substance abuse and hepatitis C.
# # # # #
In the name of hepatitis awareness, prevention and treatment, ADRLF is proud to be aligned with organizations that advocate for getting the word out, particularly to vulnerable communities.
ADRLF's tradition of giving micro-grants is an important piece of the foundation's larger work. Dr. Ortiz adds, "In addition to our other initiatives, we would like to be able to assist those smaller organizations—which have challenges with raising funds or further extending their budgets—to help accommodate what's needed to mount expenses for their projects associated with providing better access or education to under-served and/or low-income populations."
We can all get involved to spread the word! With World Hepatitis Day (July 28th) soon approaching, we encourage you to see how you can make an impact in big or small ways! And always remember: Screen! Vaccinate! Don't Hesitate!
Learn more about Hep Free NYC here
Learn more about TYSA here and watch their video here
Support ADRLF's hepatitis awareness grants and funding initiative here