The winter season, with its nor'easter winds and snow storms, affects our health in many ways — from rampant flu bouts to the lingering winter blues. So, it's essential for you to be mindful of taking care of yourself — mind, body, and soul. And while fortifying your immune system is a priority, it's also important to check on your liver. Several studies have warned about the seasonal rise of cholesterol levels in winter months because of reduced physical activities and a lack of vitamin D, among other items. Cholesterol storage is harmful, not only to the heart, but also to the liver. So in the name of serving-up some guilty-free comfort food, here are a few savory, low-cholesterol stew and soup recipes to help keep your liver healthy this winter.
Detox-Friendly Broccoli and Arugula Soup (from www.liversupport.com)
Crucifer foods like broccoli contain important phytonutrients including flavonoids, carotenoids, and sulforaphane that aid the liver in breaking down chemicals, carcinogens, and other materials.
Ingredients
1 tablespoon olive oil
1 clove of garlic, chopped
1/2 yellow or Spanish onion, roughly diced
1 head broccoli, cut into small florets, about 2/3 pound
2 1/2 cups water or vegetable stock
1/4 teaspoon of salt
1/4 teaspoon freshly ground black pepper
1/4 teaspoon dried thyme
1 cup arugula leaves, packed
Juice of 1/2 lemon
Instructions
In a large saucepan, heat oil over a medium flame.
Add onion and cook until soft and translucent.
Add garlic and cook for one minute.
Add broccoli and cook for 4 minutes until it is bright green.
Add water (or vegetable stock), salt, pepper, and thyme.
Bring to boil, then cover and lower heat. Cook until broccoli is tender, around 8 minutes.
Carefully transfer the soup into blender (or better yet, use an immersion blender right in the pan) and add arugula, blending until smooth. NOTE: Be careful if you are using a blender, start slowly, place the lid on top of the blender but don't press the lid down and work in batches if necessary.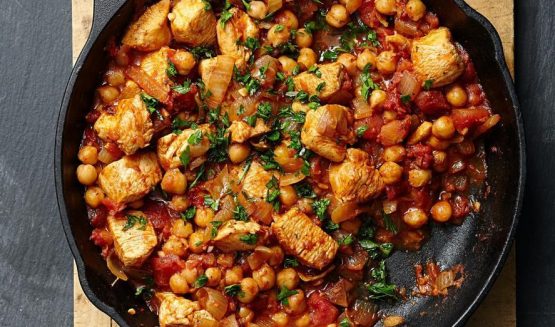 Middle Eastern Chicken and Chickpea Stew (from http://www.eatingwell.com)
Chickpeas are high in soluble fiber that helps lower cholesterol levels. These nutty-tasting legumes also have a lot of selenium, an antioxidant that promote liver health.
Ingredients
4 cloves garlic, finely chopped
¾ teaspoon salt, divided
¼ cup lemon juice
1 teaspoon ground cumin
1 teaspoon paprika
½ teaspoon ground pepper
1 lb boneless, skinless chicken breasts, trimmed, cut into 1-inch pieces
1 tablespoon extra-virgin olive oil
1 large yellow onion, chopped
1 14-ounce can no-salt-added diced tomatoes
1 15-ounce can chickpeas, rinsed
¼ cup chopped flat-leaf parsley
Instructions
Mash garlic and ½ teaspoon salt on a cutting board with the back of a fork until a paste forms.
Transfer to a medium bowl and whisk in lemon juice, cumin, paprika and pepper. Add chicken and stir to coat.
Heat oil in a large cast-iron skillet over medium-high heat. Add onion and cook, stirring occasionally, until golden brown, 6 to 8 minutes.
Using a slotted spoon, transfer the chicken to the pan (reserve the marinade) and cook, stirring occasionally, until opaque on the outside, about 4 minutes.
Add tomatoes with their juice, chickpeas, the reserved marinade and the remaining ¼ teaspoon salt.
Reduce heat to medium and cook, stirring occasionally, until the chicken is cooked through, 5 to 7 minutes more.
Serve sprinkled with parsley.
Sweet Potato Detox Soup (from www.theawesomegreen.com)
Sweet potatoes are rich in beta-carotene, which is a natural a natural anti-inflammatory that boosts liver function.
Ingredients
½ cup cooked red lentils
1 sweet potato, peeled and cut in cubes
3 carrots, peeled and roughly chopped
1 parsnip, peeled and roughly chopped
1 onion, peeled and cut in quarters
3 garlic cloves, crushed
1 tsp turmeric powder
1 tsp cumin powder
Pinch of chili powder
¼ tsp sea salt
2 cups low sodium vegetable broth, warm
½ inch piece of ginger, peeled and grated
1 tsp coconut oil
Fresh parsley, to garnish
1 teaspoon coconut milk, to garnish
Instructions
Heat the oven at 165°C/329°F.
Line a baking sheet with baking paper, add the sweet potato, carrots, parsnip, onion, and garlic, season with salt, chili, turmeric, and cumin, add the coconut oil and toss to combine.
Roast for 20 minutes then transfer into the blender.
Add the warm vegetable broth, grated ginger, and cooked red lentils into the blender and process to obtain a smooth cream.
Serve warm, garnished with fresh parsley.
Creamy Mushroom Soup (from www.liverdoctor.com)
Mushrooms are known to have high anti-inflammatory nutrients. Replace button mushrooms with varieties like maitake, shiitake, and reike, dubbed as "immune modulator" for its immune-boosting and anti-inflammatory properties.
Ingredients
1 pound fresh button mushrooms, sliced
1 medium brown onion, chopped
1 large zucchini, chopped
1 clove garlic, finely sliced
1 tablespoon dried oregano leaves
½ teaspoon ground cumin
Salt and pepper, to taste
3 cups vegetable stock
1 cup coconut milk
1 tablespoon coconut oil
Instructions
Sauté the onion and garlic in the coconut oil until softened. Add the mushroom, oregano, cumin, salt and pepper and continue to sauté for approximately 5 minutes.
Add all remaining ingredients except the coconut milk. Simmer gently until all vegetables are soft.
Add the coconut milk and continue to simmer for approximately 5 minutes.
Use a blender to puree the soup until smooth, and then serve.
For more liver-healthy recipes, visit our blog
For more soup recipes, check out this site
For the latest news on liver health, read this update