There are different ways to go green and celebrate this year's St. Patrick's Day. Keeping your liver health in mind, you can skip the green-frosted cupcakes and lime-colored beer and go for healthier options. Leafy greens contain a lot of fiber and antioxidants that assist important liver functions, such as breaking down toxins and chemicals. So, don't leave your health to luck! Try these tasty green smoothie recipes that will help cleanse your liver as you commemorate this popular, festive holiday dedicated to Ireland's patron saint. 'Drowning the shamrock' can have its benefits!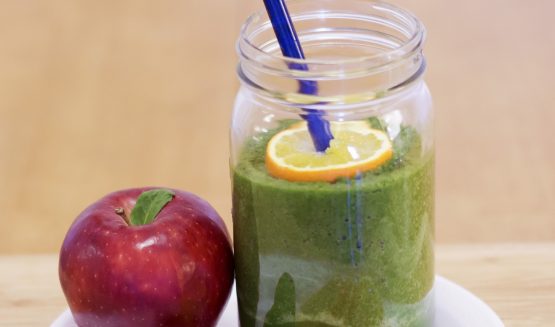 Ultimate Green Smoothie (source: www.incrediblesmoothies.com)
This recipe calls for fresh ginger, which contains gingerol — a bioactive compound with digestive cleansing and medicinal properties.
Ingredients:
1 orange, peeled
1 medium banana, peeled
1/2 lime, peeled
1 tablespoon chia seeds, soaked for 5 minutes
1 small piece of ginger, grated
2 cups kale or dandelion greens, chopped
8 ounces of water or homemade almond milk
Directions:
Add all the ingredients except for the greens to your blender and hit the "pulse" button a few times. Then add the greens and blend on high for 30 seconds or until the smoothie is creamy.
Green Goddess (source: www.prevention.com)
This smoothie makes use of spinach, which contains a skin-friendly compound called glycoglycerolipids, and also features parsley, which is an effective diuretic.
Ingredients:
10 spinach leaves
1 stalk celery
½ cucumber
½ cup parsley
Directions:
Put all ingredients through a juicer. Chill with ice, if desired.
Green Detox Smoothie (source: www.autoimmunewellness.com)
This smoothie has coconut juice, which contains fatty acids that help process toxins in the blood stream. For more on the liver health benefits of coconuts, as well as buying tips, check out our previous blog.
Ingredients:
1 Granny Smith apple, cored and roughly chopped, peel left on
1 kiwi, peeled and roughly sliced
1 large green kale leaf, stalk removed (save it for something else), leaf roughly chopped
¼ packed cup curly parsley, stalks included
2½-inch piece cucumber, thickly sliced, peel left on
¾-inch piece ginger, peeled and sliced
2 cups coconut water
Directions:
Put all the ingredients into a high-speed blender and blend until completely smooth.
For more liver-cleansing recipes you might want to try, click here.
So, get your green on, and enjoy St. Patrick's Day without harming your liver! And always remember to: Screen, Vaccinate — Don't Hesitate!