With summer now in full swing, it's important to stay hydrated and refreshed while basking in the sun's heat, and enjoying a holiday barbecue, an outdoor picnic, or a day at the beach. Additionally, with or without an A/C, the oppressive humidity can seep indoors, create heat stress, and require moments of cool-down escape.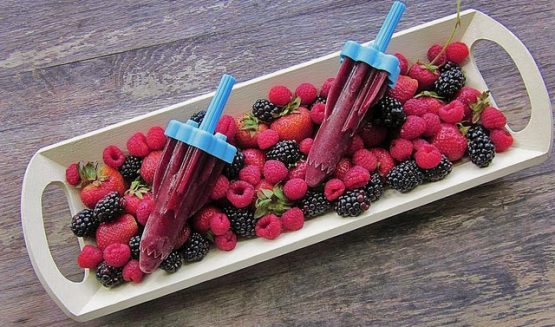 Use fruits to make healthy homemade frozen pops! (Photo credit: CC/ Jennifer Chait)
Well, you may recall those tasty, colorful frozen popsicles from your childhood? The good news? You can make those summer treats with healthy ingredients that the whole family can enjoy! Using fruits and vegetables — with antioxidants and nutrients — makes for delicious homemade popsicles that are also liver-friendly. These are also sure to satisfy your sweet cravings – in lieu of unhealthy, sugar-filled summer go-tos, like soda and ice cream.
In preparation for your July 4th festivities, ADRLF invites you to cool down with some of our favorite frozen pop recipes.
Strawberry Beet Popsicles from Super Healthy Kids
Pairing beetroots with sweet strawberries offers a unique blend of flavors and health benefits, including anti-inflammatories that promote natural liver detox.
1 1/2 cups of strawberries (fresh or frozen)
1/2 cup of beets (cooked and cooled)
3/4 cup of apple juice
1 tsp of lemon juice or balsamic vinegar (trust me!)
In a blender (preferably a high-speed one), puree all ingredients until completely smooth. Pour into your favorite popsicle mold and freeze 3-4 hours, or until completely firm. Makes 5-6 popsicles.
Dark Chocolate Frozen Kiwi Pops from Clean Food Crush
Kiwis are antioxidant powerhouses that boost immunity and cell regeneration, including those in the liver. Dark chocolate also contains antioxidants that help promote liver cleansing.
4 kiwis
3/4 cup of dark chocolate or cacao chips
8 popsicle sticks
1 tbsp. of unrefined coconut oil
1/4 cup of unsweetened shredded coconut (for garnish, if desired)
Peel and slice ripe kiwis into one inch thick slices. Carefully thread the kiwi slices onto the popsicle sticks, then lay on flat sheet pan covered in foil. Freeze this batch for about 4 hours until it hardens. In another container, melt 3/4 cup dark chocolate or cacao chips then add one tablespoon of unrefined coconut oil to the hot, melted, chocolate, and stir. Dip the frozen kiwi slices in the melted chocolate. They harden almost immediately. You may also add some unsweetened shredded coconut. Serve immediately, or wrap in plastic and refreeze. Four kiwis make about 8 pops.
Sangria Pops by thefauxmartha
A bonus treat: Popsicles for adults only! Take the happy hour outdoors with this refreshing concoction of vitamin C-filled and antioxidant-rich fruits. Citrus fruits like oranges have great antioxidant activities that help reduce harmful free radicals that concentrate in the liver.
2 cups Seven Daughters Rich Red Winemaker's Blend
3/4 cup orange juice, freshly squeezed
3/4 cup strawberries, pureed
3 tbsp. agave nectar
1 lime, juiced
Combine all ingredients in a pitcher and stir. Evenly distribute mixture into popsicle mold, leaving some room at the top for expansion when freezing. Insert sticks and freeze for at least 4 hours before serving. To remove, check that the pops are frozen solid by wiggling the stick back and forth. If it stays in place, pops are ready to be removed. If using a plastic mold, run it quickly under warm water. Carefully rock the stick side-to-side until the pops loosen.
Black Bean Fudgesicles from Kathy Hester's "The Great Vegan Bean Book"
This soy-free, gluten-free, and oil-free recipe screams both "healthy" and "yummy." Fiber-rich black beans are excellent protein alternatives. This popsicle hits two birds with one stone: you're giving your body a break from meat, while improving your liver function.
1 1/2 cups cooked black beans or 1 can (15 oz.), rinsed and drained
1 can (14 oz.) light coconut milk
1/4 cup unsweetened cocoa powder
3 tablespoons agave nectar
2 teaspoons vanilla extract
Puree all the ingredients in a food processor until smooth. There will be some black flecks from the black bean skins, which you can strain through a cheesecloth, if you like. Fill your frozen pop molds about seven eighths full of the mixture. Freeze for several hours, or overnight, before serving. Makes 6 large popsicles.
Keep it cool, all summer long, as ADRLF wishes you and your liver a happy, healthy, tasty Independence Day!
Learn more about the health benefits of beetroots here
Learn more about the liver-friendly features of dark chocolate here
Explore other healthy frozen popsicle recipes here
And share your delicious, healthy, frozen, summer recipes with us!