Greetings ADRLF Friends & Family,
We hope this winter finds you in great health and spirits! In observance of World Cancer Day 2017, we're proud to share that 2016 has been a great year for the Al D. Rodriguez Liver Foundation and our mission to screen, vaccinate, and increase awareness around hepatitis and its alarmingly silent relationship to liver cancer. With your ongoing support our voices together will continue to grow and spread this message across small communities and global borders.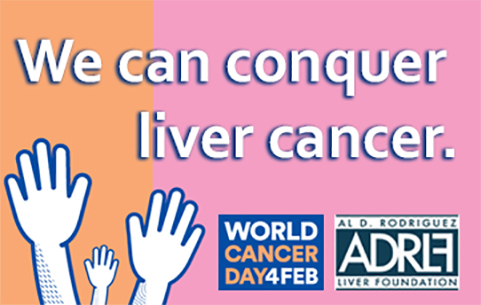 Festive, serious, and goal-oriented at once, our work this year has expanded our outreach! This year, for our annual fundraiser, we got a little sporty and hosted a fun, interactive 1970s themed event — ADRLF's Disco Bowl Spring Fling! A May afternoon of spirited bowling, and colorful bell bottoms, concluded with a special musical performance by The Discoettes, as we raised $9000 from sponsors and supporters towards health screenings and education.
In July, ADRLF produced a second annual social media event to help promote World Hepatitis Day! This time, to honor Al's deep pride of his Cuban-American heritage, we focused on Latino (Spanish-/Portuguese-speaking) populations worldwide, vis-à-vis hepatitis related issues such as: awareness, stigma, treatment access, and mobilization — particularly in under-served communities and regardless of immigration status. Joining forces with the World Hepatitis Alliance to help launch the NOhep initiative — a global movement aimed at eliminating viral hepatitis by 2030 — our own "Top Ten" initiative doubled our Twitter outreach, engaged new allies, and attracted potential healthcare partners.
In keeping Al's vibrant legacy alive through youth outreach, we have set up two scholarships in Al's name at his beloved college and high school alma maters — Long Island University (Brookville, NY), and Cardinal Hayes (Bronx, NY), respectively. We look forward to these students being hopeful envoys of our message through their educational work.
Rounding out the year, in partnership with the Ryan/Chelsea-Clinton Community Health Center, we hosted a successful "Give Thanks for Your Liver" Open House/Hepatitis Screening Event in November. With tasty treats on offer throughout, the gorgeous autumn day kicked off with an interactive educational presentation on hepatitis, followed by fun liver-wellness-inspired classes from cooking, to art, to dance led by illustrious professional instructors! Meanwhile, inclined visitors were provided free hepatitis screenings, and helpful healthcare information. Events like these are the cornerstone of our diligent work. Last but not least, our Board Member, Carson Kressley, brought national attention to the Al D. Rodriguez Liver Foundation, when his team played for ADRLF on ABC's Celebrity Family Feud — and won!
Thanks to robust stateside healthcare advocacy, today over 91% of Latino/Hispanic babies in the U.S. have access to hepatitis B vaccines
With February 4th highlighting World Cancer Day, we share the global message: "We Can. I Can." We can conquer hepatitis and liver cancer. Please join us in spreading the word by supporting ADRLF's winter initiative with your donations. In doing so, you can also honor a friend, colleague or family member with a gift in their name as we work together to help save lives. With our volunteer board and minimal overhead costs, every penny makes a difference and your tax- deductible donation will go directly to our outreach. Al left an indelible mark on us all. Thank you for believing in our foundation, embracing Al's spirit, and supporting our message along this amazing 8-year journey.
Happy winter! And help keep spreading the word to: Screen. Vaccinate. Don't Hesitate!
The ADRLF Board
Darcy Becker, Lisa Collins, Cara Joy David, Harriett D. Foy, Elana Hayden, Carson Kressley, Dr. Carlos Ortiz, Crayton Robey & Daniella Stromberg